EXTENSION MASTER GARDENER Memorial Garden
In the Spring of 2017, the MASTER GARDENER(sm) volunteers of Vance and Warren Counties broke ground on a Memorial Garden at the Vance County Regional Farmers Market in Henderson. The garden will utilize good performing plants that are drought tolerant and which can be grown with minimal pest issues. There will also be an emphasis on plants that attract and/or provide habitat for beneficial insects (e.g. pollinators and predators), as well as plants that are native to Piedmont North Carolina.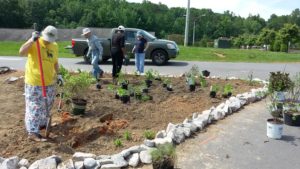 The garden would not be possible without the hard work and dedication of our volunteers, nor without generous contributions from many organizations and individuals (see list of contributors below).
The garden is dedicated to the memory of the following individuals, who have passed on after making noteworthy contributions to the community through the Master Gardener program: Robert Duke, Shirley Heidt, Zella Knight, Peggy Polak, Lucille Quinitchette, Phil Wilson and Betty Zielstorf.

We invite you to watch our progress as we continue to develop this garden, which we hope will provide a place of beauty, learning, reflection and peace for all who visit. If you are interested in supporting this effort with a contribution, please contact paul_mckenzie@ncsu.edu or call 252-438-8188.
CONTRIBUTORS:
Beverly Allen
Mary Jane Bosworth
Greystone Concrete
Edna Gaston
Franklin Brothers Nursery
Henderson House & Garden Club
Mr. and Mrs. Tommy Hester
Lowes of Henderson
NC Extension Master Gardener Volunteer Association
Rose Oil Co.
Thompson's Landscaping
Vulcan Materials
Waste Industries
Willis Enterprises
Was the information on this page helpful?