Farmers Markets
Introduction / Community Gardens / Pick Your Own Farms & Certified Roadside Farm Markets / CSA's / Mobile Markets / Groceries & Co-Ops / Artisan Foods & Bakeries / Restaurants / Breweries & Wineries / Educational Resources
Farmers Markets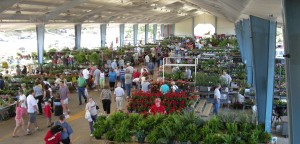 Farmers markets provide a great opportunity for both farmers and local residents to interact and support the local economy. They provide a chance to talk to farmers, meet other local residents, and try new foods while investing money back into the Greensboro food system. Many of these markets host crafts, artisan foods, and other foodstuffs. Go on out and explore the possibilities for yourself!
The City Market
http://www.GSOCityMarket.com
info@GSOCityMarket.com
106 Barnhardt Street, Greensboro, NC 27406
336-510-9390
The City Market is an open air urban market located in the South End neighborhood of downtown Greensboro made up of artisans, musicians, farmers, craftsmen, culinary talents and patrons that provides a unique and interesting sample of what the Triad has to offer.
The City market is every 3rd Thursday of the month between April and October.
The Corner Farmer's Market
2200 Walker Avenue and Elam Avenue, Greensboro, NC 27403
The Corner Farmer's Market adds to Greensboro's alternatives and provides a great place to meet neighbors, and shop for regional and local food and products. They offer an assortment of Certified organic vegetables, meats, plants, bakers, and crafts. The normal hours are Saturdays 8am to 12noon, typically year-round.
Greensboro Curb Market
http://gsofarmersmarket.org
501 Yanceyville Street, Greensboro, NC 27405
336-373-2402
Greensboro Curb Market is open on Saturdays 7 a.m.-12 p.m. (year round) and on Wednesday 8 a.m.- 1:00 pm (April 22 through December). They sell locally grown fruits and vegetables as well as organic items. It provides greater Greensboro with opportunities to purchase and learn about local foods in a friendly and diverse social setting.
Greensboro Downtown Farm Market
https://www.facebook.com/pages/Greensboro-Downtown-Farm-Market
505 N. Greene Street, Greensboro, NC 27401
336-210-1947
Greensboro Downtown Farm Market is open 6 days a week, Monday through Friday,10:00am – 6:00pm and Saturday 9:00am – 3:00pm . Goodness Grows in North Carolina is the theme for all the remarkably fresh and tasty produce and fruit, certified organic and sustainably grown throughout the year at downtown farm market. They also supply NC Seafood, Grass Fed Beef, Free Range Chicken & Eggs; Homeland Creamery milk, butter & ice cream.
Hillsdale Farmer's Market
1000 NC Highway 150 W., Summerfield, NC 27358
Hillsdale Farmer's Market is open on Saturday 8 am-noon; May through late October.They provide locally grown fresh fruits & produce in-season. Honey, organic bread & eggs, baked goods & fresh cut flowers available.
Piedmont Triad Farmers Market
www.ncagr.gov/markets/facilities/markets/triad
2914 Sandy Ridge Road, Colfax, NC 27235
336-605-9157
The Piedmont Triad Farmers Market encourages and supports the growth of local foods and artisan goods businesses to improve economy, support better health through healthy eating and build social and community connections.
The farmers areas are open 7am to 6pm 7 days a week.The office is open 7:30 am to 4:30 pm Monday-Friday.
South Elm Urban Market
info@southelmurbanmarket.com
340 S. Elm Street, Greensboro, NC 27401
336-274-4595
South Elm Urban Market brings a unique variety of Farmers, Artisans, and fun activities to Downtown Greensboro. Sunday Afternoon it provides a wide variety of high quality goods, focusing on local and NC grown produce and handmade goods ,as well as educational and seasonal fun activities
Working hours: from 12-5pm Sunday afternoon, May 6th-November 25th.
Town of Gibsonville
www.gibsonville.net
Main Street, Gibsonville, NC 27249
336- 449-7241
The Town of Gibsonville's Farmers Market provides local produce and custom made crafts and organize the Depot Stage Entertainments giving opportunity to a variety of local talent.
Working hours: Saturdays 8 am-12pm  (June to September) for outdoor market & 6-8pm for Depot Stage entertainment.
Town of Pleasant Garden
www.pleasantgarden.net
4920 Alliance Church Road, Pleasant Garden, NC 27313
336-674-3002
You can buy fresh produce, baked goods, canned goods, wooden crafts, homemade jewelry, homemade soaps and lotions, holiday decorations, hand-painted goods, gift baskets, home-sewn sheets, etc at the Town of Pleasant Garden's Farmers Market.
Working hours: Saturday 7am – 12pm & Wednesdays – 4pm – 6pm during specific months. (usually June to September).
Uptowne Market
www.highpointnc.gov/cityproject/umarket.html
High Point Public Library
901 N. Main Street, High Point, NC 27262
336-883-8512
It is not only a great place to purchase local produce and goods, but Uptowne Market is also a place to enjoy the day with family and friends. They have different events each year like live music, Yoga, food trucks, food demonstrations, face painting and more.
Operates starting on May 9th every Saturday from 8:30am-1:00pm through September 26th.
Was the information on this page helpful?