4-H Area Food Show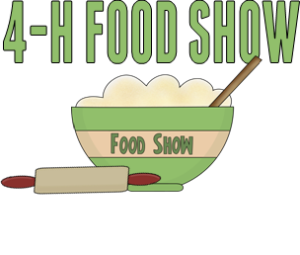 Does your child/children enjoy making some goodies in the kitchen?! Here is an opportunity for them to share their favorite recipe in a FUN way with others! The time has come again for the 4-H members of Surry, Yadkin, Wilkes, and Alleghany counties to dazzle us with your culinary skills! The 4-H Area Food Show will be held on Saturday, March 3, 2018 at the Wilkes County                                                                           Cooperative Extension office.
Come present your dish in a unique way for a chance to win a $25 value prize basket! Setup will begin at 9:30 a.m. and end at 10:00 a.m. Judging will begin at 10:00 a.m. and should end by 12:00 p.m. While judges taste these tasty treats participants can enjoy different hands-on activities.
Those interested must fill out and turn in an entry form by                                  Monday, February 26th.